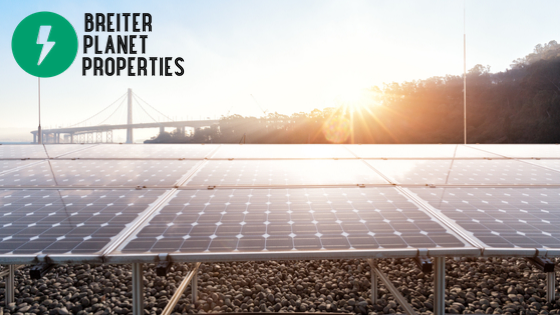 Fifteen years ago, solar energy was an expensive, rarely utilized, inefficient source of energy. Today, its cost has decreased drastically, the technology is improving, and solar projects are spreading all over the world.
GreenPeace released a study in 2010 titled the Energy Revolution. In this study they boldly predicted that there would be 335,000 Megawatts of installed solar capacity by 2020. However, by 2018, there were already 468,000 MW of installed capacity. That is enough to shatter those bold projections and power approximately 91 million homes! In 2018, solar power comprised about 2.3% of U.S. energy generation, up from 0.1% in 2008. The tremendous rise in solar energy production can be attributed to the decrease in the price of manufacturing, policy and legislative drivers, and increasing demand from corporate offtakers.
At Breiter Planet Properties, we continue to focus on acquiring and financing solar assets across the United States and the entire globe. We work with residential, commercial and industrial, and utility size projects. We take pride in delivering clean energy to homeowners, business owners, and utilities; and helping communities transition from fossil fuels to renewable energy. Click here to explore your options for solar on your property!
Swanson's Law is a rule named after Richard Swanson, the founder of SunPower. "The law states that with every doubling of production and shipments of panels, there has been a 20 percent reduction in the cost of panels." (GreenTech Media) As prices continue to decrease, solar generation is becoming more competitive with traditional means of generating energy: burning fossil fuels, coal and natural gas. Back in the 1970's when solar technology was beginning to develop, the price was approximately $0.50 / kilowatt hour. Today, for utility scale solar projects, the price can get all the way down to $0.01 / kilowatt hour - $0.02 / kilowatt hour. For residential projects, the price has fallen to about $0.10 / kilowatt hour. This drastic reduction is thanks to the decrease in manufacturing costs, policy and legislative drivers, and an increase in demand from corporate offtakers.
California is one of the states leading the charge in solar policy. Starting in 2020, all new homes in California will be required to include solar installations. There is also the Million Solar Roofs initiative, and the goal has already been met! Click here to learn about similar legislation in Massachusetts with state-owned buildings. Unfortunately, there is not a ton of support at the federal level under this administration. But when we dive into the state level, we see some exciting and progressive solar-friendly policy.
While the residential sector is a large consumer of electricity, two thirds of the power in the United States is consumed by businesses. Companies like Facebook and Apple are purchasing their electricity from utility scale projects. In order to fully unlock the potential of solar energy, it must be paired with battery storage.
"Energy Storage is sort of the last puzzle piece to come together to make solar and wind, and any intermittent source, a reality for 100% of our power needs." (Andrew Beebe, Managing Director of Obvious Ventures)
Utilities are also joining in on the fun. Solar generation facilities with storage included are beginning to beat out gas powered "peaker" plants, power plants that are turned on to meet peak demand of electricity. Southern California Edison is one utility that has committed to solar plus storage in place of a gas peaker plant.The project is planned to be active by December 2020. It is a 100 Megawatt / 400 Megawatt Hour system solar plus storage system that beat out the 262 megawatt natural gas peaker plant. Source
At Breiter Planet we understand the benefits of solar plus storage. To help homeowners, landowners, business owners, and utilities get the most out of their solar investment, we work closely with industry partners to include storage with the solar generation system. We realize the resilience that storage brings, and the peace of mind it can provide during ever increasing power outages.
Source:
https://www.youtube.com/watch?v=od5yWB5aE0c&feature=youtu.be