This past week, 20,000 renewable energy professionals flocked to Salt Lake City for Solar Power International and North America Smart Energy Week. Nestled in the spectacular Wasatch mountains, Salt Lake City was the perfect host for the conference. The people of the city were warm and friendly, and the views were breathtaking.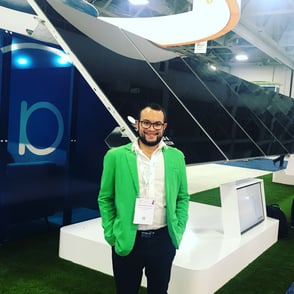 When we arrived on Sunday, the trade floor was still under construction.

We are so grateful and appreciative of all the hard work that the construction crews put in to make this whole event possible.
It was an eventful week for Breiter Planet Properties. The education sessions and panels were enlightening. The best part of the week was the networking. Meeting and connecting with so many other solar professionals was inspiring. I think I heard Andrew say: "This is my favorite event!" no less than 20 times. We were clearly very excited to be at SPI last week. We are also excited to reiterate that Breiter Planet Properties is in acquisition mode! We are focused on acquiring and financing solar assets across the globe, and understand the capital needs that developers, utilities, and commercial off-takers, have when pursuing renewable energy generation projects. Our projects range from small commercial size to utility scale around $500M+! Please reach out to us if you have a project ready to be sold or financed. Follow this link to learn more about Breiter Planet Capital Investments.
The solar field is always advancing and progressing and SPI is the perfect place for companies to display their new technologies. Bifacial modules, tracking systems, EV chargers, intelligent energy storage systems for homes, drone surveillance, and floating solar arrays were some of the most interesting solar technology on display at the conference.
Bifacial Modules are the next step up from monofacial modules. In a natural progression from monofacial modules, bifacial modules produce power from both sides of the solar panel. They are installed above a reflective surface, which allows for up to thirty percent more production. (What are bifacial solar modules?) These modules are installed on top of highly reflective surfaces such as white tpo roofs to ensure that light will reflect off and hit the backside of the panels. Since each installation site is unique, it is difficult to predict the production of these panels with great accuracy. However, leaders in the solar industry believe that bifacial modules will take off in the coming years.
Tracking systems were also well represented at SPI this year. They are another mechanism that allows people and businesses to get the most out of their solar investment. The angle of incidence, or the angle at which sunlight hits the surface of the panels, determines how efficiently panels will be able to convert sunlight into electricity. The tracking systems allow the solar panels to follow the sun to ensure direct sunlight for the panels. There are single axis trackers that follow the sun on one axis of movement, and dual axis trackers that, you guessed it, follow the sun on two axes. Tracking systems are able to increase the energy production of solar panels by roughly 30-35% for single axis and 40-45% for dual axis trackers. The operation and maintenance costs do increase with tracking systems, since there are more moving parts to account for. Tracking systems also substantially increase the weight of the solar system, making them more ideal for ground mounted systems compared to rooftop systems. (EnergySage Breakdown of Solar Trackers)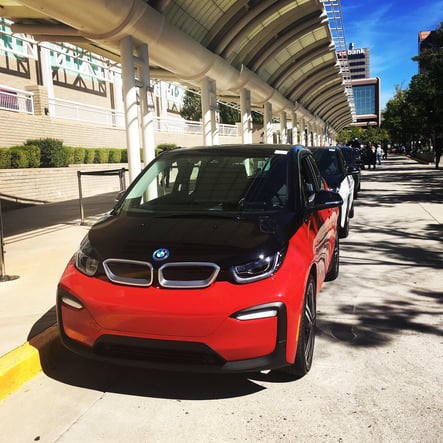 At SPI this year, there was an option to test drive electric vehicles. I decided to hop in this BMWi3 and take it for a spin around Salt Lake City. I was impressed to see all of the charging infrastructure that was already installed throughout the city. As Electric Vehicles start to become more and more widely used, charging stations will have to become available as well. There were many booths throughout the conference displaying their EV charging station technology. One of these companies was called Paired Power. They combine solar power with EV charging stations, a match made in heaven. According to the EPA, the two primary sources of greenhouse gas emissions are electricity generation and transportation. Combining electric vehicles with solar powered charging systems greatly decreases the reliance on fossil fuels and the amount of CO2 emissions. Paired Power installs solar mounted parking canopies in companies' parking lots. This way, the cars are protected by any inclement weather and employees are provided with onsite generating electric vehicle charging stations. Paired Power
Some of the booths at SPI were very popular. Sonnen was one of them. It seemed like there was a pretty consistent buzz around their booth and company, in general, from the beginning of the conference. They were recently acquired by Shell and their New Energies group, which is investing up to $2 Billion per year into clean energy solutions. Sonnen eco is a smart storage system that lets homeowners take full advantage of their solar assets and time of use rates of electricity. Peak demand hours are early in the morning and in the evening, the opposite time of peak generation hours for solar energy assets. Sonnenbatterie allows people to store the energy they generate during the day and use it when they need it. This means people save money on their electric bill because they are not pulling from the grid during peak demand hours, when electricity is the most expensive. The Sonnenbatterie Eco uses smart technology to run appliances during off peak hours, reducing stress on the grid and also saving you money. The Sonnenbatterie goes even further to decentralize the energy system by connecting communities to the stored electricity and providing the option to buy from them, instead of buying from the grid. It is an exciting technology that will push the industry forward. (Sonnen)
We were very happy to see several companies from the Northeast at SPI this year. One of the companies is RaptorMaps. Based in Greentown Labs in Somerville, MA, Raptor Maps created Raptor Solar ™, an artificial-intelligence software that analyzes aerial images of solar sites using drones or other aircraft. Images captured by the overhead surveillance are analyzed by this state of the art AI technology to locate anomalies before they become a bigger issue. The technology allows asset owners to efficiently discover issues and pinpoint exactly where they are within a solar array. Most solar sites employ manual solar surveillance which takes much longer and is more expensive. With the technology developed by Raptor Maps, solar sites can be monitored from initial groundbreaking, ensuring construction deadlines are met, to when they are fully operational; allowing owners to accurately locate problem areas within the array. (Raptor Maps)
Finally, we met up with Ciel et Terre a global leader in floating solar. If you have been following the blog, you may remember we wrote a blog about floating solar a couple months ago. To see Ciel et Terre at their booth at SPI was pretty cool. In most cases electricity and water are not a safe combination, however Ciel et Terre have mastered the craft. They have successfully installed over 165 projects across 28 countries. Floating solar arrays are able to produce clean energy without taking up land. This model is unique and creative, and can benefit both the body of water ecosystem and the solar array itself. Water is able to hold its temperature well, keeping the panels cool and efficient. The panels are also able to block evaporation, ensuring the water levels stay consistent.
At Breiter Planet we pride ourselves in being up to date and on the cutting edge of solar technology. For more information about how we can help you achieve your solar dreams, click the button below: