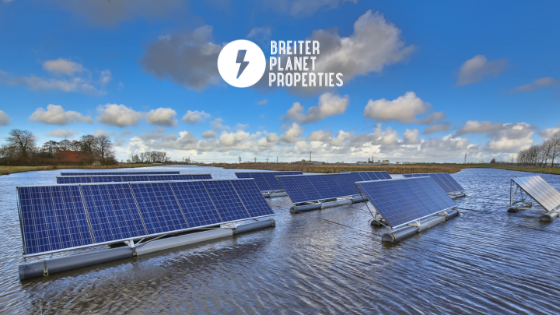 The largest floating solar array in California is beginning to undergo construction. Ciel & Terre, experts in the floating solar industry, are undertaking this groundbreaking project. Located at the town of Windsor's recycled water storage pond, this floating solar array is projected to meet up to 90% of the town's water treatment and pump facility's needs. Even with such high projections, the floating solar system only covers approximately 22% of the water treatment pond.
Breiter Planet Properties is actively developing floating solar projects and it is our goal to educate our clients on this modern mounting option that is projected to shake up the entire solar industry.
There are several benefits to the construction of a floating solar array. First and foremost is the generation of renewable energy onsite. This means the owners of the property can have a predictable energy price for the life of the system. When you generate your own electricity, you can have predictability in your electricity costs for today and for the future.
A solar array floating on a body of water can also increase the overall efficiency of the system. Since water holds its temperature very well, it allows the panels to remain cool and not overheat, which in turn makes them more efficient.
Floating solar arrays are also able to reduce the erosion of the land surrounding the body of water that they are installed on, since the arrays reduce the movement of the water. Finally, floating solar can inhibit algal growth which can be hazardous to the aquatic ecosystem.
Utilizing a similar structure to our exterior land lease, Breiter Planet Properties can assist you in taking your property to the next level with a floating solar array. These arrays work very well with vineyards and wineries, water treatment plants, or any place that has a level body of water. The financial benefits include receiving long term, predictable, rental income for your body of water, the ability to increase the value of your property when you sell, and have the entire process managed by Breiter Planet Properties to allow for a simple and easy project. Not to mention the fact that you will be joining the energy revolution, transitioning away from coal and fossil fuels and onto a renewable source of energy in the form of solar energy.