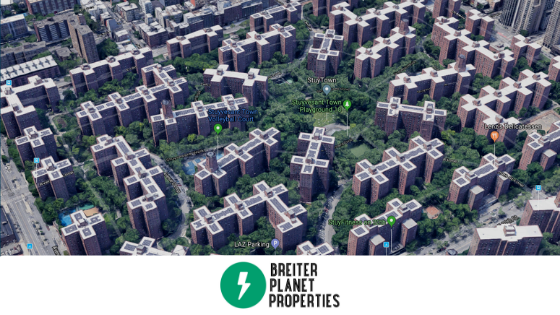 The Big Apple? More like The Big Array! New York City is now home to the biggest array of solar panels on top of an apartment complex in the United States. This solar array sits proudly atop Stuyvesant Town-Peter Cooper Village in Manhattan with over 9,671 solar panels spanning 22 acres of roof space. Nearly doubling the solar capacity in Manhattan, this project adds 3.9 Megawatts of power. Installing this solar array will have the same effect as removing nearly 12,000 cars off the road, and reducing carbon emissions by 62,472 tons!
This project has been financed by the Blackstone Group, StuyTown's owner. They spent close to ten million dollars on the project and have taken advantage of approximately 2.3 million dollars in tax breaks and incentives through NYSERDA's NY-Sun program. The Stuyvesant Town - Peter Cooper Village in Manhattan is the first complex in New York to receive a LEED Platinum rating, the highest possible rating LEED gives out. Ken Caplan, Global Co-Head of Blackstone Real Estate commented on the LEED rating: "We are honored to have received this certification and we're incredibly proud of our commitment to sustainability at StuyTown. StuyTown has been the ideal place to test and implement innovative green solutions as we work towards increasing energy efficiency throughout our portfolio." ( Source )
This continues the exciting trend towards solar in New York. The Climate Mobilization Act was recently passed and will go into effect in November of 2019. Solar Power only makes up approximately two percent of the electricity generation portfolio in the United States, with a goal of 20 percent of the generation by 2030. With a goal as lofty as this, it is important that installations like the one in StuyTown continue to be developed and incorporated into our electric grid.
Along with assistance from the non-profit organization Solar One, StuyTown will offer educational opportunities for members of the community to learn how the solar array works. Residents of the apartment complex are happy to see their apartment complex joining the fight against climate change.
As expert Solar Project Developers, Breiter Planet Properties works very closely with property owners and lends a guiding hand through the entire process of solar development. With a firm grasp on market specific incentives and policies, we are guiding property owners from start to finish, ensuring a smooth process in allowing us to develop a solar project on your property.