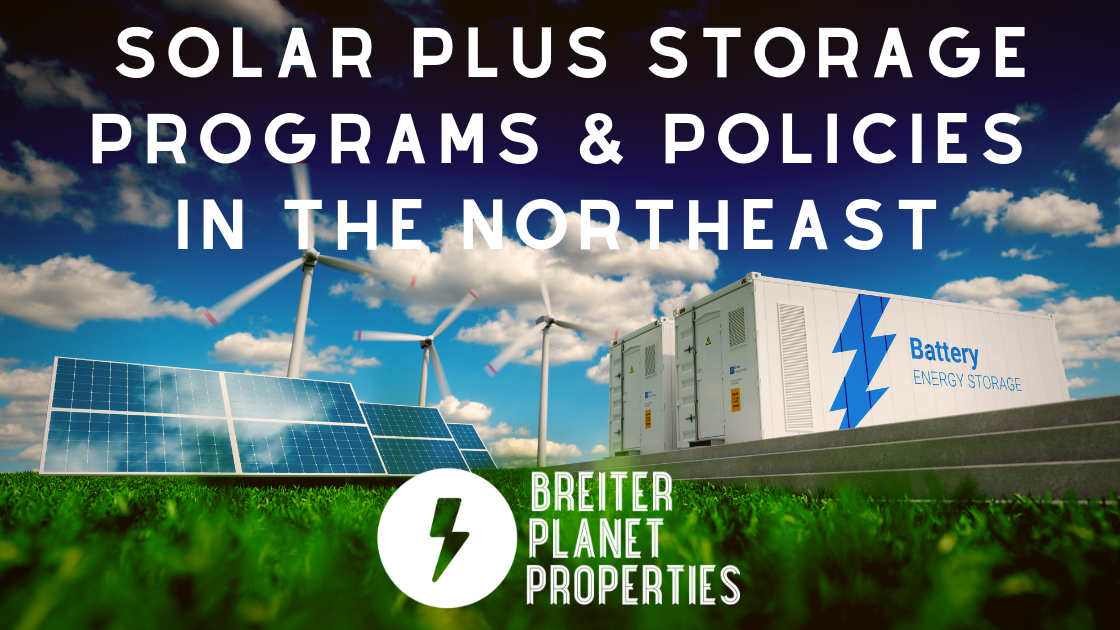 Energy storage is the next frontier in renewable energy development. Without established storage infrastructure, renewable energy will not be able to reach its full potential as our main source of energy generation. Massachusetts and New York are leading the change in storage advancements and incentives, and have the potential to make substantial growth in the coming years. As climate change and disruption cause increased severity of storms and weather patterns, a reliable storage option for renewables is vital to resilience. Just last month (July 23) a wind storm ripped through West Yarmouth, Massachusetts; tearing the roof off of a hotel. Alarming storms with effects like this are becoming more frequent, so it is imperative that we build strong storage infrastructure in the face of these powerful disturbances. Let's take a look at the different policies and programs in place in the northeast.
Starting in Massachusetts, we have the SMART (Solar Massachusetts Renewable Target) program. This is a tiered program that pays solar customers for each kilowatt hour produced and also adds a premium for storage-paired production. As of July 23, 2019, the SMART interconnection queue already has 130 megawatts of storage, proof that there is serious interest. Another exciting development in Massachusetts is the Clean Peak Energy Standard. Although it is still under development, the goal for this program is to provide incentives for clean energy technology that can supply electricity or reduce demand, during seasonal peak demand periods established by the Department of Energy Resources. In a blog from earlier this winter, we detailed how Massachusetts' commercial and industrial facilities can monetize new solar and storage incentives.
Moving a bit north to New Hampshire, we see another way of taking advantage of storage technology. New Hampshire is planning to own and install 500 Tesla Powerwalls in homes across NH. Liberty Utilities is the mastermind behind this program. The program intends to lower the costs for ratepayers while also saving money for the host customers. It is based on the time of use rates and is designed to shift consumption away from peak times. Even with this program in effect, there is still a large opportunity for residential solar plus storage in the state of New Hampshire.
In New Jersey, we are seeing some issues. Although there is an ambitious policy in place, the action on the ground is lacking. In 2018, New Jersey passed an energy law calling for a storage study and 2 gigawatts installed by 2030. Even with incentives like the Renewable Electric Storage program, there has only been one completed project, two in the pipeline, and fifteen cancelled. We hope to see more solar plus storage projects come to life as technology and policy advance.
New York state rivals Massachusetts with its energy storage policy and action. There is an onslaught of funding coming through the pipelines to get solar plus storage projects up and running as soon as possible. The bridge incentive in New York is quite similar to the SMART program in Massachusetts. It operates on a declining block tariff and the first block was claimed within the first two weeks of the program. It is clear that there is an appetite for storage in the Empire State, and that goes hand in hand with the abundant funding. This funding has the potential to support 1.8 gigawatts hours by 2025, pushing NY closer to its goal of 3 gigawatts by 2030. There are many paths to profitability in New York, which explains its popularity among solar plus storage developers.
Finally we end up in Vermont, where there is already a tesla battery program in operation. Customers of Green Mountain Power, Vermont's biggest utility, have the option to have a Tesla Powerwall installed on their property for the reasonable fee of $15 per month. According to Green Mountain Power, there have been 610 Powerwalls installed throughout the state. During peak demand times, the utility is able to share the stored power from these Tesla batteries with the rest of their customers, removing stress on the grid. As unique and innovative solutions like this continue to arise, it is clearly an exciting time for storage in the Northeast.
At Breiter Planet Properties, we are very excited to be part of the solar plus storage market in the northeast. With our expertise in the market, and understanding of state-specific incentives and programs, we are able to make sure property owners get the most out of solar plus storage projects. We are involved in our projects from start to finish, with the ability to develop, finance, and manage solar plus storage projects.