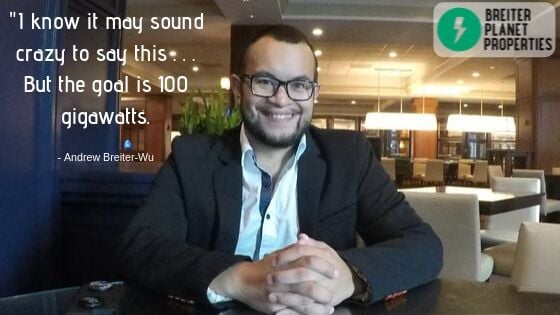 Last week, I had a sit down with Andrew Breiter-Wu, President of Breiter Planet Properties. I asked him a few questions about himself and the company, and got to know more about his story. As we walked through the Prudential building in Boston, looking for a place to sit down and talk, Andrew noted: "I love this area, because there is always something going on. It's great to be in the action." In the solar world, Andrew is definitely "In the action".
You've been in the energy industry for some time now, what motivated you to get started?
A: I have always been inspired to do something positive for the environment and to be able to improve the world around me. That was instilled in me from a young age. When it came time to getting my first job and starting a career, I saw the solar industry as a great opportunity for growth and a way to make a positive impact through my work.
Can you talk a little bit about your path in the industry? How did you get to where you are today?
A: My first job was when I was in high school. I worked for a youth conservation corps clearing brush, vines, and debris from a bio-reserve in Fall River, MA. From there I moved on to a non-profit organization reaching out to people about the value of energy efficiency and solar power. Soon after, I became a door to door solar salesman, an energy specialist, and then onto being an energy consultant. These early jobs were valuable to me because I was able to develop communication skills and build relationships within the industry. I remain close friends with many of the people I met at these companies during the early days.
Without going into too much detail, how does Breiter Planet Properties work?
A: It all starts with people. Someone who is interested in solar for their property will reach out to Breiter Planet Properties. As the President of the company, I am the main point of contact for people throughout the entire process. We gather as much information about the property as we can, so we can better assess their options. We stay involved in every step of the development and investment process. Even after a project is up and running, we will be there to make sure everything is running smoothly. That consistent experience is so valuable. We lease or purchase land, hire the contractors to engineer and install the solar project, buy operating solar projects, and operate energy assets across the globe. There is a lot of capital being put to work. So, we really pride ourselves on being there for people and being able to answer any and all questions that come up along the way.
What is your favorite part of the process of developing solar projects?
A: I love working with people, which is part of the reason I created the company. But it's not just the people, it's watching the business model of a project progress. It's that vision. When I envision a project, I see the big picture. And when I'm able to start with nothing, or minimal project information, and turn it into a tangible project - a development - it's something I can't fully describe, but gets me really excited. That's what is most rewarding to me.
What is the hardest part?
A: The hardest part is managing risk. What do you have to risk to make that vision of a project come to life? Some projects have unknown variables. Sometimes you have to invest hundreds of thousands, even millions of dollars into a project that might not even work out. THAT is scary! There is also operational risk. Panels might get ripped out of the ground by a hurricane or tornado. You do your best to manage that risk, but at the end of the day, it is still a risk. At the same time, I want to be available for everyone...my team, my employees, my customers. It's a challenge, but I wake up happy every day. I have a ton on my plate, and I have a ton of concerns. But I'm so happy to be doing what I love.
You may have already answered this, but what is the most rewarding part of developing these solar projects.
A: I'll give you an example. We've got a gentleman who is in our pipeline. He has owned this property for his entire life, but was never able to really do anything with it. Breiter Planet Properties was able to help, and we were able to make this man quite happy by leasing his land and installing solar on it. Helping people is really rewarding to me. There is nothing better in this world than to make a difference in people's lives.
How do you stay on top of the rapidly changing and developing solar industry?
A: I stay very in tune with the industry focused media organizations. I stay on top of those, and read a lot about updates. I'm also connected with sources that I speak with on a regular basis. If you want to be in the solar industry, then you have to be an expert. So I do what I can, and then I rely on a team that is also reading to help keep me updated.
Where do you see Breiter Planet in 5 years? 10 years?
A: My goal is to be able to originate and finance 2% of global solar assets by 2023. I know the clock is ticking, and I may sound crazy to say this, but the ultimate goal is to finance, own, and operate 100 gigawatts of solar projects. I know it's a big vision, but hey, I'm a visionary, and I can't help it. We have a plan, and we know the strategy to execute that vision, so I feel that we are in the right position to be able to achieve that.
Solar is the future of energy generation. Yet the process is complicated and can be confusing. How would you explain the process of going solar to someone who knows nothing about the field?
A: It all starts with talking about the right things with the right people. So, if you are a homeowner, the way I explain solar to you is way different than how I would explain it to someone in a c-suite of a large corporation, and even more different than a landowner who is looking to lease their land. Our process applies for everyone, and we are just trying to stay relevant when we explain things to a given client.
Who are some of your role models?
A: I don't think of role models. I want to be the person I want to be. But I respect a lot of people. Jigar Shah is someone I admire and respect. He basically created the Power Purchase Agreement. So I think being a good person with good principals is the best way to lead and support others.
What are your interests outside of solar?
A: I'm a bit of an outdoors person, so I do enjoy scuba diving and going camping. To be honest with you, I work a lot; but I try to go out into nature, whenever possible, to unwind. Usually that is during the summer time, if I can find some time.
You are always on the go. Traveling across the United States and all over the world, where do you get your motor?
A: Belief in what you are doing. Being really happy about what you are doing and the growth. There is no way to make it if you are not running all over the place to meet your goals. Most people could set smaller goals and be happy. I just have extremely big goals and I have to be everywhere, so the energy is just, I would say solar generated.